Sign up to our Newsletter
and stay in touch with us. We promise we will treat your address well and send you only the best
offers
. This is why we ask you to give us your best email address, the one you use for great occasions :-)
In return we give you a fantastic guide for your vacation on the Riviera Romagnola.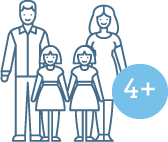 Unfortunately, we cannot accommodate large families due to space constraints. Don't worry anyway! We have a solution: if you are looking for a
room for 4 people
or more, you will find all the best options at our partner facility,
Hotel Nuovo Fiore
, located a few meters away.
Check out for availability!
Credits TITANKA! Spa © 2018